Blogs are websites or parts of websites where users can post articles, images, videos, and more.
Blogs are created for personal, professional, or commercial purposes and are often used to express opinions, share information, or promote a product or service. When a blog post is optimised for search engines, it should attract the right traffic and turn that traffic into leads.
If blogs are effectively executed and managed, they can be profitable. Advertising, affiliate marketing, sponsored content, the sale of digital goods, and consulting services are a few common ways to monetize a blog.
However, building a blog and making it successful takes a lot of effort, perseverance, and dedication. Building a successful blog takes time, effort, and the capacity to produce excellent content that appeals to your target audience.
When writing or preparing blogs, there are numerous standards that we must follow.
Let's now examine each step in more detail and find out how to write a blog.
Pick an interest-related topic.
Analyze your audience
Look at the opposition
Create a post outline
Read, consider, and make notes
Make Exceptional, Well-Written Meta Descriptions
Use All of Your Senses
Write as you would speak
Take SEO into consideration
Prepare for success in the future
Pick a subject on which you have thorough knowledge and enthusiasm. It will be simpler and more enjoyable to write a blog.
Current events, topics, or trends in your area of interest merit research and writing. Write about subjects that will entertain and inform your target audience by considering their interests.
Analyse your audience
Writing effective and engaging blog content requires careful consideration of your readership. It is necessary to understand the demographics, interests, and needs of the audience you want to reach and their preferred information presentation methods.
Your content will be more likely to be valued and shared by your audience if it is customised to their needs based on the analysis of your audience.
Understanding your audience will help you develop material that appeals to them and advances your blogging objectives.
Look at the Opposition
The competition, or the other bloggers or websites in your niche or industry, should be recognized and understood when starting a blog. This will assist you in differentiating your blog and ensuring its prominence in a crowded market.
You can build a blog that fills any gaps in the market and offers unique and valuable content that distinguishes you from the competition by taking the time to understand the competition. You can use it to find chances to work together or cross-promote with other bloggers in your niche.
Create a Post Outline.
A plan makes it easier for the reader to follow by arranging the content logically and coherently. A clear understanding of the content's organisation is also helpful to the writer.
By breaking the work into manageable chunks, creating an outline can help you better organise your time. By concentrating on one piece of the content at a time, the writer may ensure that each is thoroughly researched and produced to the best of their abilities.
The reader will find it easier to understand the information presented if the content is clear and concise and has a well-structured outline.
Read, Consider, and Make Notes
Reading gives you knowledge and inspiration: By reading pertinent articles, books, and research, you can gather knowledge and inspiration to write your blog.
To comprehend and remember information, consider the following: You can better understand and retain the information you've read by critically analyzing it and considering how it relates to your blog.
Making notes will help you organize your ideas and thoughts, making it simpler to structure your blog and ensure that all crucial points are covered.
In conclusion, reading, thinking about, and taking notes are crucial phases in blog preparation since they aid in information gathering, comprehension, retention, and efficient thought organization.
Make Exceptional, Well-Written Meta Descriptions
Because they give a concise overview of a webpage's content and can affect click-through rates from search engine results, meta descriptions are a crucial component of blog writing.
Your website's traffic may increase by using a compelling meta description to persuade readers to click the link. Additionally, they assist search engines in comprehending the context and content of a page, which may affect the page's visibility and ranking.
Use All of Your Senses
Readers can remember text given more detail and interest by using the senses when writing it. In addition to making the writing more effective and enjoyable for the reader, sensory language may give it depth and emotion.
Write as You Would Speak
You will build a stronger relationship with your readers if you write in a conversational style, also known as "writing as you talk." Your information will be easier to comprehend, and your message will be more approachable.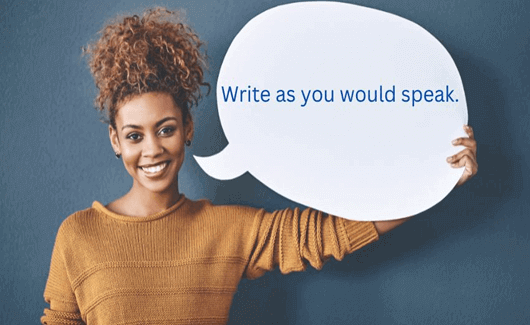 When writing in this style, it's important to use straightforward language and avoid complex jargon to make the content more approachable to a wider audience.
Furthermore, writing in the first person can make your writing seem more intimate, which can help you win your readers' trust and forge closer bonds with them.
Take SEO into Consideration
When creating a blog, search engine optimization (SEO) is crucial since it helps your website become more visible and attract more natural visitors.
By making your blog content more search engine-friendly, you can raise its placement on search engine results pages (SERPs), making it simpler for potential readers to find when they conduct keyword research.
This can boost traffic, raise brand recognition, and increase conversions and revenue for your company.
Prepare for Success in the Future
You've now finished writing all the crucial parts of your blog article. You must now bring it to a satisfactory conclusion. In addition to being interesting and providing concrete instructions, blogs need to be prepared. Then, use examples to keep your audience interested in what you have to say.
Generally, a strong blog post conclusion summarizes the key points and summarises the article. However, there is no need to reiterate them; merely mentioning them will be sufficient to jog the reader's memory and ensure that the information is retained.
Conclusion
Driving as much traffic to your website as you can is the ultimate goal of blogging. Search engines like Google are made aware that you are actively updating your website by creating fresh content, which encourages frequent visits to see what new material has appeared.
You can constantly add new pages to your website by incorporating a blog. Every new blog post is a new indexable page for a search engine to find and rank. When you start your blog, you also have the chance to include keywords that will draw in the correct audience and support your SEO efforts.
Publishing is a different process than creating. It requires courage and vulnerability to put your thoughts "out there." Blogs help your target market become more aware of your business while generating leads.
You may have a strong foundation of blog entries if you take the time to learn about basic SEO strategies and how to connect with your audience.
Here are some Frequently Asked Questions about "How to Write a Blog Post That Wins in 10 Steps".
Q:What topic should I choose?
You can write about a subject that interests you, a current event, a personal experience, a review of a product or service, or a how-to guide, depending on the focus of your blog
Q:What length is ideal for a blog post?
A blog post should generally be between 500 and 1500 words. However, the length will vary depending on the subject and the post's objectives.
Q:How can I differentiate my blog post?
Use these to distinguish your blog post from the rest:
The distinctive and compelling writing style
Headings and subheadings that are eye-catching
Images, movies, or infographics with a strong visual presence
A well-investigated subject that benefits the reader Personal anecdotes and stories that make the material relatable
When should I update my blog?
The suggested frequency is once per week, but it also relies on your ability and the audience's desire.
Q:How can I promote my blog post?
You can promote your blog post by:
Sharing it on social media platforms
Emailing your subscribers about the new post
Including a call-to-action at the end of the post
Commenting on relevant blog posts and forums.
Q:How should I pick a subject for my blog post?
Consider your target audience's interests, the most recent developments in your business, and subjects pertinent to your brand when selecting a topic for your blog post.
Q:How can I get information for my blog post?
While researching your blog article, use resources like industry websites, academic publications, professional views, and rival websites.
Q:How can I make my blog article SEO-friendly?
Use pertinent keywords in the title, header tags, meta description, and material body to make your blog post SEO-friendly. Additionally, ensure your photographs are correctly labeled and include internal and external links that go to pertinent material.
Author Bio
Priya Pandey works as an SEO Specialist for Ultrabyte International Pvt. Ltd – An IT Company in Nepal. She is passionate about learning new things. Her positive attitude and tireless energy allow her to keep up with the latest news. When she is not working, she enjoys reading, exploring the beauties of nature, and eating delicious food.